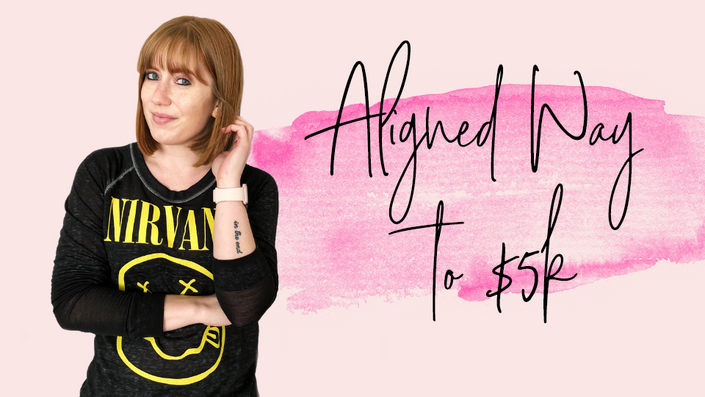 Aligned Way to $5k

Scrolling through Instagram gives you major envy as you see all the other successful girl bosses living their "best lives," while you toil away at the day job you can't stand.

Looking at your bank account is something you avoid doing at all costs because more seems to be coming out than going in as you struggle to create a consistent income through your business.

And all you really want to do is make a good living doing something you love and that leaves you feeling fulfilled.
To achieve that life you spend all day dreaming about, you've dedicated hours to downloading every guide on making money online and building an online business, but nothing seems to be working.
And no matter what you try, you wind up creating the wrong offerings. You launch to crickets. And you just feel crushed.
All of it leaves you wondering why everyone else seems to be making a living online except you.
And the initial excitement you had about starting your blog and building a business has been completely dashed by the overwhelming feeling of everything you need to get done.
I totally understand your frustration, but here's the thing...
You can continue creating courses and building services, hoping that someone will finally buy from you, but you'll still launch to crickets if you don't have two things:
a smart, effective sales strategy

and a mindset that's designed to attract abundance.
I know because I've seen my clients struggle with both of these things time and time again. With a little help, they're able to turn things around by creating irresistible offers their audience loves, implementing proven marketing tactics, and following a no-stress launch blueprint.
And now I want to help you turn your business around by teaching you how to build something that's aligned with your bigger vision.
Your Instructor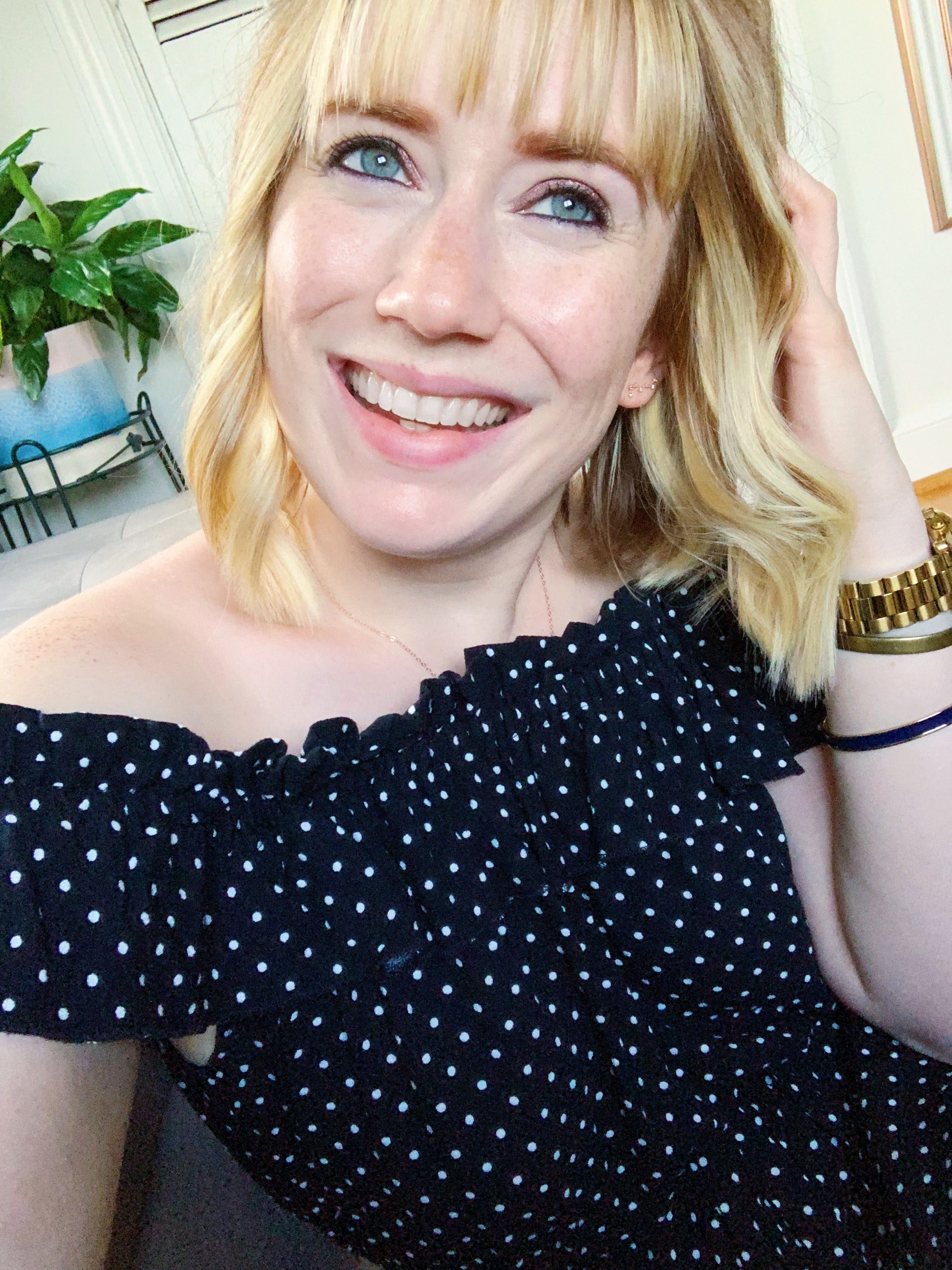 I'm Rachel! I've been blogging since 2009, with multiple websites under my belt. In that time, I learned what it takes to build a business and nurture it to success. And here's a spoiler: it didn't happen overnight.
I started making money online through ad networks, affiliate links, and sponsored posts. When I realized that wasn't sustainable and that it didn't allow me to have full control over my income, something needed to change. And that's when I directed my focus to my very own offerings: coaching and courses.
Yes, it took trial and error to become self-employed. But the good news is, I'm making the journey to becoming a successful business owner a little easier by packaging everything I've learned into my premium courses. Now, you can up-level your online income and start living the "best life" you've been dreaming of.

This course is your step-by-step blueprint to creating captivating offerings, successfully launching them to the world, and bringing in consistent sales month after month.
Those days of "just getting by" financially will be long gone when you have the sales tools inside these modules available to you.
You'll receive access to lessons that help you...
build the Know, Like, and Trust Factor to establish a relationship with your target audience and position yourself as an authority -- an essential element of being a business owner

choose the right money making ideas for you, your business, and your dream clients and customers -- because your offerings need to be aligned AF

validate your new ideas before diving in head first so you don't waste your time on something your audience doesn't really want -- not cool!

create offerings like ebooks, courses, services, and so much more -- all so you can go from idea to reality in no time at all

price your offerings and launch them effectively -- which means no more crickets and only PayPal notifications from here on out

make a consistent profit by booking out your services and crafting sales funnels that generate money on autopilot -- making money while you sleep, babe!

and guide you in mastering the manifestation techniques that will help you attract abundance into your life -- because a poor mindset doesn't get you a rich bank account.
And it's all so you can make your first $5,000 online.
Sounds like a dream, doesn't it? But let me tell you, it's soon to be your reality.
The modules inside Aligned Way to $5k are designed to help you:
Monetize your blog in a way that feels good and never sleazy or salesy
you'll receive my step-by-step guide to making your first $5,000 online so you can get on the path to becoming a profitable business owner instead of running a blog that's just an expensive hobby
Launch your next offering to the world while you watch the sales roll in
you'll be able to avoid launching to crickets and bring in a steady stream of sales throughout the launch thanks to using smart launch strategies
Generate consistent sales so you never have to worry about when you'll make your next bank deposit
you can start making money while you sleep thanks to a purpose-driven content plan and sales funnels that are designed to get big-time results in terms of conversions
And break through the limiting beliefs that are holding you back from leveling up your income
you'll learn about my favorite manifestation techniques to get into alignment with the financial success you want to attract into your life
Course Curriculum
Module 1: Getting Started With Monetization
Available in days
days after you enroll
Module 2: How to Monetize & Validate Your Idea
Available in days
days after you enroll
Module 3: Creating & Launching Your Next Offering
Available in days
days after you enroll
Now, I know what you're thinking...
"I keep putting money into my business without seeing much return. Why should I invest in yet another course?"
Well, here's the thing: if you've been making investments and you haven't seen results, then something is going wrong.
Either they haven't been the right investments for you or you're not taking action.
This is one course that's designed to help you see a return on your investment. With lifetime access to these modules, you'll have the lessons inside Aligned Way to $5k to guide you from here on out.
To make your money back on this course, all you'd need to do is sell...
one course priced at $97

five ebooks priced at $20

or book just one client for your service.
Earning back the investment you made on this course has never been easier!
With Aligned Way to $5k, you'll experience a complete transformation within your business.
Instead of looking at your bank account with dread, getting jealous of the success every other entrepreneur is experiencing, and wondering when someone will finally book you for your services, your life could do a complete 180.
You'll feel excited to work on your business because it's actually making you the profit you've desired (and deserved) for so long. Not only that, but you'll start making money while you sleep. There's nothing quite as satisfying as waking up to PayPal notifications!
Those other entrepreneurs you used to envy? Now you'll feel like you're on their level thanks to your thriving business. And you can finally start living your best life. You know, the one you've dreamed about where you only work when you, where you want, and on whatever you want!
And those clients and customers will be rolling in on autopilot. Running your business will be such a breeze that you'll wonder why you waited so long to get serious about your profitability.
Frequently Asked Questions
When does the course start and finish?
The course starts as soon as you enroll! You'll immediately receive access to Module One, while all the remaining lessons will be dripped out week-by-week. This is done to keep you on track with following the lessons without being overwhelming. I find this is the best way to keep students engaged, instead of presenting a ton of information all at once. There's no end date to the course, which means you have all the time you need to finish working through each lesson. There's no rush, but I did design it so it could be completed within two months.
How long do I have access to the course?
Say hello to lifetime access! Yes, you read that right! For as long as I'm offering this course (and I don't plan for it to go away any time soon), you'll be able to access the modules whenever you want. This also means you'll receive future updates to the lessons for free.
Will this course really make me $5,000?
Here's the deal! I can't make any promises that you're actually going to make $5,000 in your business upon finishing this course. What I can promise is to deliver all the tools and strategies that you need to actually make it happen. What you do with the material I provide is totally up to you. With this knowledge, a great product or service, and a little hustle... You can achieve anything you want!
What's your refund policy like?
Unfortunately, refunding someone for a digital course is a tricky thing. Because you'll receive access to all of the course materials at once, I'm unable to offer a refund. Otherwise, people might consume all the content and request their money back because they're totally uncool like that. However, if you have questions about whether this course is right for you, get in touch and I'll help you decide!